Prius Medical Prius Duet Mattress System
---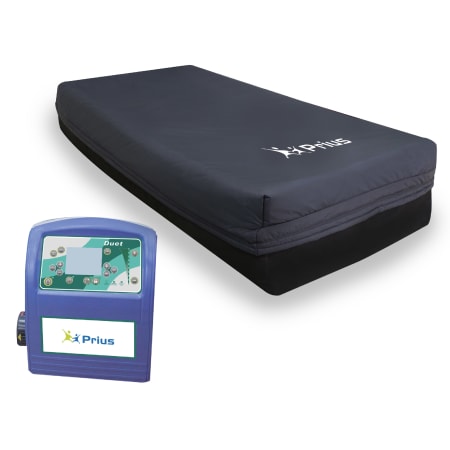 PRODUCT DESCRIPTION
The Duet Mattress System is an all-in-one medium to a high-risk system for patients who are at risk of developing pressure injuries. This mattress system can accommodate patient weights up to 600 lbs. Clinicians love Constant Immersion Technology that automatically sets optimal pressure based on the patient's weight, height, and position. The Prius Duet provides Low Air Loss, Pulsation, 3-1 Alternation, Static, and Rotation Therapies. All in one system, the Duet can also be used for patients who have an existing stage 1, 2, 3, and 4 pressure injuries.

This mattress is also available in the 48" size.
---
* * * We do not provide equipment for home use * * *
Need help requesting a quote or have additional questions ? Let us know! Call us at 1.800.248.5882 or you can SEND US AN EMAIL
Be sure to SUBSCRIBE to our monthly equipment email to always stay up to date with special offers and new equipment arrivals.