B Braun Infusomat Infusion Pump
---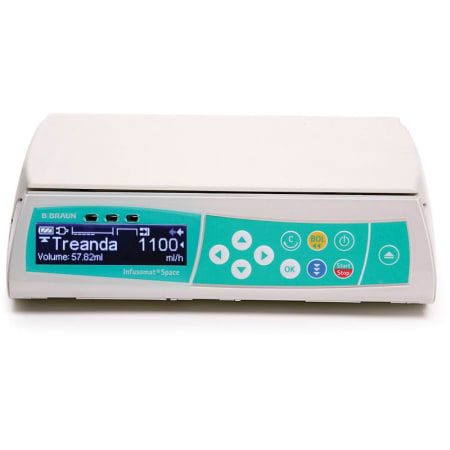 PRODUCT DESCRIPTION
The B Braun Infusomat is a large volume infusion pump and is a great option when looking for a small, lightweight, and versatile IV pump.

Created specifically for use in pediatric and acute care facilities, this B Braun pump allows for flexibility and ease of use that is efficient within all care settings. Also called the Infusomat Space pump, it's unique shape and design allows for multiple pumps to be stacked vertically to minimize the space it takes up in a patient's room and provide increased versatility.

During the design and creation of Infusomat, B Braun spent more than 100 hours of usability testing and had a total of 100 registered, practicing nurses and anesthesiologists participate in a variety of tests. It was one of the first pumps to be cleared by the FDA's new human factor and usability engineering process. The process is used to assist in testing equipment to maximize the likelihood that new medical devices will be safe and effective for their intended users and environments.

Additional Features of the B Braun Infusomat:
Easily Stackable
Extensive Drug Library that is Customizable
Weight: 3lbs
Continuous and Piggyback Modes
User-Friendly Interface
Can be attached to an IV pole with appropriate pole clamp
Med One rents and sells to hospitals, healthcare facilities, and educational institutions across the country. Request a quote for the B Braun Infusomat Space pump below.
We have quality IV Poles available for all infusion pumps.
---
* * * We do not provide equipment for home use * * *
Need help requesting a quote or have additional questions ? Let us know! Call us at 1.800.248.5882 or you can SEND US AN EMAIL
Be sure to SUBSCRIBE to our monthly equipment email to always stay up to date with special offers and new equipment arrivals.