GE Infant Resuscitation System
---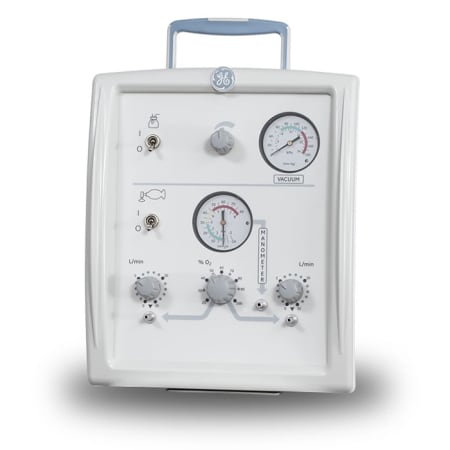 PRODUCT DESCRIPTION
When it comes to infant resuscitation, time is as precious as your patients. To achieve positive outcomes, you must rely on technology to help you with split-second preparation, accurate assessment, and rapid response.   

The advanced technology and innovative design of the Bag & Mask and T-piece integrated resuscitation system helps you work quickly when seconds count. And it is compatible with both our Panda* and Giraffe* Warmers, which makes it truly flexible.    

The Integrated Resuscitation System for the Panda and Giraffe Warmers has been designed to help you effectively balance the immediate needs of your patients with those of the resuscitation team – all while supporting best practices in neonatal resuscitation.  Our Integrated Resuscitation System offers:

Everything you need within reach
With the Integrated Resuscitation System for your Panda and Giraffe warmers, you have everything you need to quickly deliver neonatal resuscitation therapy to your high-risk newborns.

An all-in-one system
This advanced, all-in-one system offers many integrated features and options for providing effective airway management, gentle ventilation, pulse oximetry and trending, all of which help you meet the demands of both labor & delivery and NICU environments.

Effective, reliable airway management
You can easily change oxygen concentrations within a range from 21% to 100% using the optional O2 blender to support resuscitation therapy practices.  
---
* * * We do not provide equipment for home use * * *
Need help requesting a quote or have additional questions ? Let us know! Call us at 1.800.248.5882 or you can SEND US AN EMAIL
Be sure to SUBSCRIBE to our monthly equipment email to always stay up to date with special offers and new equipment arrivals.