Hamilton C3 Ventilator
---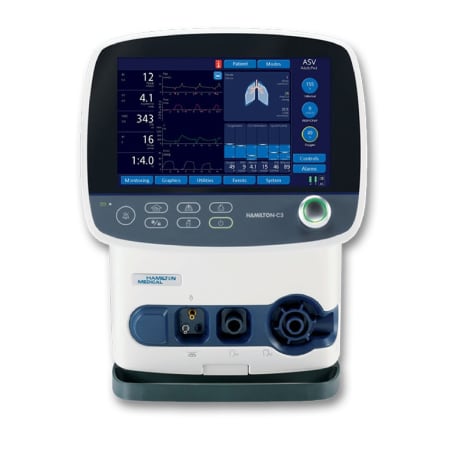 PRODUCT DESCRIPTION
The HAMILTON-C3 has been designed to ventilate adult and pediatric patients in the critical care environment. With optional support, the HAMILTON-C3 is also able to ventilate infants and neonates. The unique Ventilation Cockpit™, with its high definition widescreen, provides exactly the information you need and helps you focus on what's important. The Dynamic Lung and the Vent Status window assist you in immediately identifying the patient's lung condition and assessing the weaning process. Adaptive Support Ventilation (ASV) makes ventilation intelligent by providing optimal support with each breath for virtually all patients. The HAMILTON-C3 has been designed with built-in, hot swappable batteries and a turbine—giving you maximum independence and flexibility to accompany your patient everywhere.
---
* * * We do not provide equipment for home use * * *
Need help requesting a quote or have additional questions ? Let us know! Call us at 1.800.248.5882 or you can SEND US AN EMAIL
Be sure to SUBSCRIBE to our monthly equipment email to always stay up to date with special offers and new equipment arrivals.