EMPLOYEE
SPOTLIGHTS
Oscar Morales / Juan Mejia / Tahiry Ratsimanohatra
OSCAR MORALES /
Biomed Tech
I was born in Mexico in the state of Michoacan. At the age of 2, I immigrated to Reverside, California where I grew up. I am the second youngest of six children , and with four sisters and one older brother, life has never been a bore. I enjoy spending time with my sisters and nieces. Each of them possesses their own unique personalities, and it is fun to see how each of them react to my jokes and pranks. My older brother that is a proud father of three has been my mentor as well as my father growing up. He taught me that in life we have to work toward what we want with hard work and determination, never forgetting who we are or where we came from. I would say that above all there is nothing more important to me than faith, love, and the strong bond that I possess with my family that helped to form the man that I am today.
Something that I enjoy doing alongside my family is feeding the homeless. We do this act of service at least once a month, in which we feed over 500 homeless people. This is one of the reasons why I enjoy working at Med One where I feel that I can continue serving others and helping them in their time of need. Whether it is delivering equipment to people that need it like I did at the beginning of my career at Med One, or testing and repairing equipment as a Biomed Tech. There is a deep sense of accomplishment working with Med One. I get to fulfil not only my aspirations but also expand my work skills.
Most of the achievements that I obtained at Med One are due to the guidance that was bestowed upon me by my operational manager Jesse Villanueva, along with the support of Max Laris my regional manager. They have been a huge influence in my life pushing me toward new achievements, never leaving me alone, and always supporting me through the most difficult stages. Med One has become much more than a job, it has become my family. The love and support of all my coworkers helped me to get where I am now. I have the peace of mind knowing that I am surrounded by kindhearted people that are always ready to lend you a hand in your time of need. I know that there is no other medical facility that I would rather work with than Med One.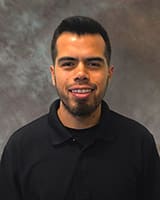 Juan Mejia /
Biomed Tech
I was born and raised in Artesia, CA and currently live in Cerritos, CA. I am blessed to still have my parents by my side and have 4 older sisters. I am the youngest and the only son. Growing up was challenging as my parents, four sisters, and I all lived in a one-bedroom studio in a very dangerous part of town.
I have an amazing and loving wife who I've been with for 14 years. We were blessed in 2021 with identical twin daughters, Camila and Natalia, but they beautifully gained their wings after a month in the NICU and now they are forever our little angels in heaven.
My wife and I have a wedding photography and film business. So aside from working at Med One, I'm a wedding videographer and you can catch me working events or editing films in my spare time. Aside from spending time with my family, dogs, and cameras, I love playing soccer. I started playing soccer at 8 years old and continued to play throughout clubs, high school, college and still enjoy playing with my team on Sundays.
I've been at Med One for 4 years, and I'm currently a BioMed Technician. I started as a cleaner/driver and was then promoted to a BioMed Technician in 2019. I wholeheartedly enjoy what I do every day. I get to repair medical equipment that is crucial for the well-being of a patient and at times, lifesaving. I was able to see it firsthand when my daughters were in the NICU a yearago. Being able to see how important my role is as a technician was inspiring and working alongside a dedicated and committed team at Med One motivates me every day to do my best.
Tahiry Ratsimanohatra /
Web Developer
I was born and raised in Madagascar. It is an island off the East coast of Africa and is the farthest destination you could go from the United States. I moved to the US in 2014. I am married to a wonderful and loving wife, and we have 3 wonderful children: Ariela, Keanu and our youngest, Nakoa.
Spending time with my family is what I usually do when I get home, unless there is something more pressing and time sensitive. I enjoy playing pickle ball or messing around with any type of musical instrument.
My family loves the outdoors. We love camping, boating and riding side by side. These are a few of the things we do to make good memories.
I am a Computer Science student at BYU-I specializing in Programming. I am a huge fan of automation. Converting a process that used to be daunting and cumbersome into an automated task is a big achievement for me, and I enjoy figuring it out.
I enjoy working at Med One as I get to do what I love, being a Web Developer. It gets even better when I am surrounded by amazing co-workers and friends.