OPEN FOR BUSINESS
DESPITE ECONOMIC STORMS
Written By:
Bryce Ray
Over the past year we have seen a lot of economic headlines: high/sticky inflation, geopolitical uncertainty, increasing interest rates, bank failures and disruption, mild recession, hard landing, soft landing, strong labor market, debt ceiling crisis, supply chain issues and many others. Despite economic storms, hospitals continue to keep their doors open and must find ways to successfully operate.
Periodically, I share hospital industry data facts with those who may not have the time or desire to do the research. The U.S. Hospital Count Chart shows the total hospital count in 2021 & 2022. As you will see from the chart in 2022 there was a slight increase in the number of total U.S. Hospitals. Top 10 Largest Health Systems by Number of Hospitals chart shows the total number of member hospitals by Health System in the United States. HCA Healthcare is the largest for-profit health system and CommonSpirit is the largest non-profit health system.
Despite the economic climate, these hospitals and health systems remain open and even grow in numbers, and many can do so because of financing, rental, and service options like the ones Med One offers. Regardless of economic storms, we continue to support our customers, vendors, and the marketplace with consistent reliable white glove service as we are open for business and looking to approve transactions. Below I outline the ways we are distinctive in helping health systems encountering various challenges presented by the current economy
SPECIALTY IN LEASING, RENTAL AND SALE OF MEDICAL EQUIPMENT— PROVIDING FLEXIBLE ACQUISITION OPTIONS FOR CUSTOMERS
NON-BANK, PRIVATELY HELD INDEPENDENT FINANCE & RENTAL COMPANY
NIMBLE AND NICHE LENDER FOCUSED ON HOSPITALS WITH AN EXTREMELY HIGH TRANSACTION APPROVAL RATE
100% FOCUSED ON PROVIDING VALUE AND CREATIVE OPTIONS FOR HOSPITALS TO OBTAIN ESSENTIAL USE MEDICAL EQUIPMENT (SHORTTERM, PEAK NEED RENTALS THRU LONG TERM FINANCING)
SIGNIFICANT INVESTMENT IN INFRASTRUCTURE THAT DEALS WITH 'OFF LEASE' EQUIPMENT, INCLUDING A FOCUSED RENTAL & SALES GROUP THAT RE-DEPLOYS EQUIPMENT INTO SECONDARY USE
We understand the challenges facilities are facing today, and value working together to create solutions that fit the needs of everyone. As health systems and facilities continue to operate and grow, Med One will continue to offer support and solutions that fit the requirements and address the challenges of today's conditions.
U.S. HOSPITAL COUNT CHART (2 YEAR TREND)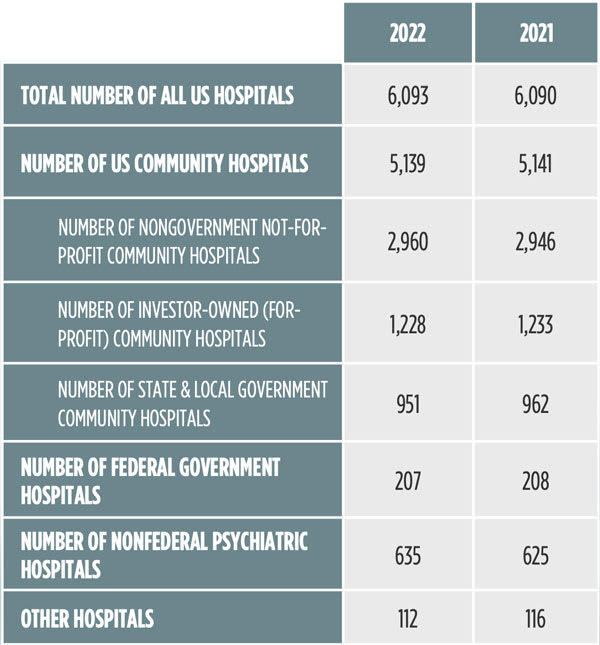 10 LARGEST HOSPITAL HEALTH SYSTEM 2022 - BY NUMBER OF HOSPITALS