ResMed Astral 150 Ventilator
---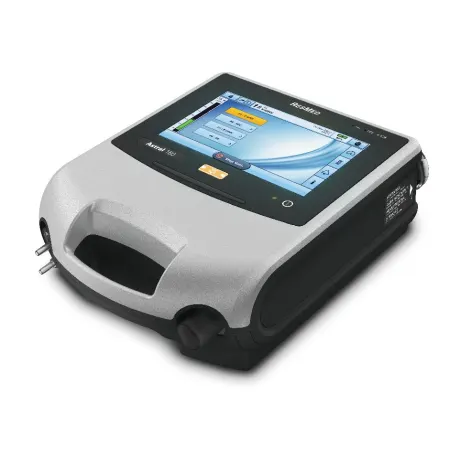 PRODUCT DESCRIPTION
From initial setup to everyday use, the award-winning Astral 150 offers greater freedom, confident care and designed efficiency to enrich life for you and your patients. It offers a range of treatment options for both adult and pediatric patients, and is compatible with a variety of interfaces to deliver excellence in invasive and noninvasive life support ventilation.

Astral 150 is a step ahead of other options with its integrated Fi02 capabilities, option of double-limb circuit and two additional therapy programs.

• Confident care. The large, color touch screen displays vital treatment information at the touch of a button; live monitoring and a full range of alarms give clinicians peace of mind.

• Greater freedom. Designed for freedom and mobility, Astral weighs only 7.1 lbs. (3.2 kg).

• Ease of use. Astral's intuitive interface, presettable programs and setup assistant allow for fast and accurate patient setup and simplified training for your staff.

• Designed efficiency. Astral requires minimal parts and components, making servicing simple and straightforward. And because simple service means fast turnaround times, you can now minimize downtime of devices to maximize business efficiencies.
---
* * * We do not provide equipment for home use * * *
Need help requesting a quote or have additional questions ? Let us know! Call us at 1.800.248.5882 or you can SEND US AN EMAIL
Be sure to SUBSCRIBE to our monthly equipment email to always stay up to date with special offers and new equipment arrivals.