Detecto MV1 Med Vue Weight Analyzer
---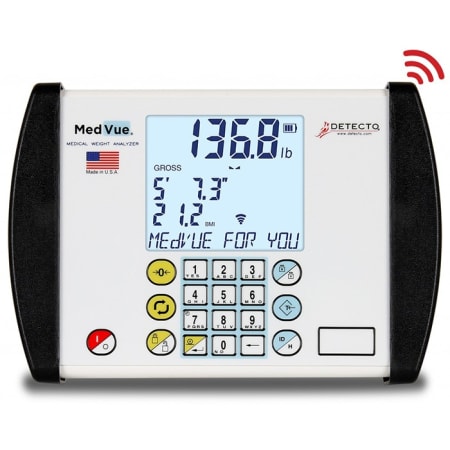 PRODUCT DESCRIPTION
DETECTO's USA-made MedVue® medical weight analyzer is utilized on select clinical scales. The MedVue® features a vivid 3.5-in-wide by 3-in-high backlit LCD display screen with nearly 1-in-high weight digit readouts for easy visibility. The MedVue's 350-degree swivel mounting bracket allows the display to be tilted and rotated into position wherever it is the most convenient for the medical professional and/or patient to view. A host of other benefits include 14-digit patient ID which may be entered via the alphanumeric keypad, 99 stored tare weights, 200 stored transactions, 1LOOK display, and four different languages available in set-up (English, Spanish, French, and German). The MedVue® offers a host of both wired and optional wireless connectivity for sending measurement data to multiple devices all at once.
---
* * * We do not provide equipment for home use * * *
Need help requesting a quote or have additional questions ? Let us know! Call us at 1.800.248.5882 or you can SEND US AN EMAIL
Be sure to SUBSCRIBE to our monthly equipment email to always stay up to date with special offers and new equipment arrivals.