EMPLOYEE SPOTLIGHTS
PETE //
Delivery Driver - Alpharetta, GA
I was born in Manchester, Connecticut, and was raised in East Hartford, Connecticut. I, along with my younger sister, went to school there. After we both graduated, our family moved to Florida. My parents and my sister's family live about an hour away from me now, so when we have time off, we try to get together.
My wife, daughter, and I currently live in Debary, Florida, not too far from the office. This gives us easy access to Daytona Beach or to Disney and Universal Studios. We love to cruise and different places; we have been to the Bahamas and Puerto Rico and are waiting for our next cruise this summer to St. Thomas, the Dominican Republic, the British Virgin Islands, and a few days at sea. This cruise should be really fun since there will be nine family members and a total of seven days on this cruise.
When I'm not at work or spending time with family, I enjoy something I call range therapy. Being at the range with good friends shooting at targets, and enjoying time together is a way for me to relax and recharge.
I have been with Med One for three years now, and I am a driver at the Sanford office and work for a great operations manager, Edgar Galan. Edgar has taught me a lot about this industry, and over the last three years, I have been able to meet with other drivers and operation managers as well as some great people from corporate in Sandy, Utah. The guys here in Sanford are great to work with. We are like a family here since we are a smaller office. I look forward to a long career with Med One.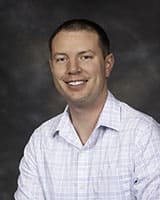 AARON //
Biomed Repair Tech - Sandy, UT
I grew up in West Valley City, Utah, and have lived in the Salt Lake Valley most of my life. I love being in Utah with everything it has to offer, from red rock landscapes in the south to the towering mountains up north and everything in between. I get to experience a little bit of everything with all four seasons, five national parks, and activities to enjoy all year long.
I have been married to my wife, Jacey, since September of 2010. We have been blessed with three wonderful but mostly crazy boys. My children are Kaden, Tayson, and Lucas, who are 9 years, 7 years, and 5 years old, respectively. I love spending most of my time with my family. We love being outside, playing sports, traveling any chance we can get, and experiencing life and learning together. We have a cabin in Bear Lake, Utah, and try to get up there as often as possible throughout the summer. We love exploring wildlife, driving side-by-sides and 4-wheelers through the mountains, going fishing and playing in the lake, and spending time around a campfire. We also enjoy watching and attending various sporting events, from BYU football to the Salt Lake Bees to Real Salt Lake and the Utah Jazz. We are grateful to Med One for the opportunities they provide us to attend many of these events.
I enjoy reading and learning any opportunity I can get. I feel like we are presented with opportunities constantly throughout our lives to learn and gain experience, and that we should take advantage of this. My wife and children inspire me to become better each day. We live in a world rich in history that I hope we all can learn from, cleaving to that which is good and uplifting and steering clear from repeating past mistakes that hinder and hurt us.
I attended school at LDS Business College, earning an AS degree in business, as well as a certificate in accounting. I enjoy small businesses and have had opportunities to assist in managing and operating them. I currently work as a biomed technician in the Sandy office of Med One. We have a great team and are led by Brad Johnson, who has been a great manager to work with in my time here. It is rewarding to build relationships and provide support to those we serve at Med One.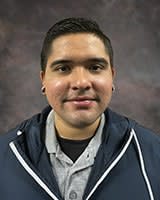 JESUS //
Delivery Driver - La Mirada, CA
I was born in Bellflower Kaiser Hospital and raised in Pico Rivera, CA. I have lived in Pico Rivera my whole life, all 24 years. My family consists of my parents and two older sisters. My family is a big part of my life, and they have always been very supportive of me. They have shown me a lot of the things I know, and I am very thankful for and appreciative of everything they have done for me. My two nephews are also my godsons, and I love to spend time with them and teach them new things. I enjoy going on adventures with them as often as I can. I am big on family, so I try to take any chance I get to spend time with them. My family loves quality time, and we do a BBQ every Sunday. We also go out on vacations here and there.
One of my hobbies is building cars. I have been building a Mitsubishi Evo for five years now. Working on that car is a headache, but I'll put up with it any day because I am very passionate about the Mitsubishi Evolution. Working on cars has taught me how to have a lot of patience and how to just make a good time out of anything. Driving on a long trip in a car you have built is a rewarding feeling. It makes me appreciative of the things I have worked hard for. I like driving to the mountains to relax and camp with friends and just be out in the wilderness making new adventures with people I enjoy spending time with. I love going to Silverwood Lake and Wrightwood Lake on my free weekends. It's the perfect mixture of mountains and lakes. Skateboarding has also always been a big hobby of mine. I have been skateboarding since I was about five years old. I still like to skate here and there.
I went to El Rancho High School in Pico Rivera, CA and currently work as a medical equipment delivery driver at Med One. I really enjoy the environment, and I love the people at Med One that I work with on a daily basis. It's nice to meet new people from different hospitals and see them often on a daily basis. For me, growing the relationships with the customers that we serve every day is a big part of the job and something I enjoy. Working here at Med One has been a good opportunity.