THREE CHEERS FOR THE
RED
,WHITE
AND
BLUE
Written By:
Larry Stevens
As we get bombarded day after day with the conflict and strife that seems to be afflicting our world, it could be very easy to become downhearted, discouraged, and negative. There is conflict between nations, as well as debate and dissension about how to deal with the conflict. Each day we are treated to one more reason for us to distrust and dislike each other as Americans. National leaders offer up solutions that are often needed to solve problems that their last solutions caused. Politics seems to create a deep chasm down the middle of our populous. No one wants to work with anyone on the other side of the aisle. No one seems to trust anything the other side is promoting. Often, our elected officials seem interested only in their self-serving interests. It is not uncommon for us to be bombarded with all the reasons why America is a bad place. There are those who stand for and promote fundamental change in all our basic founding principles and structures, while others refuse to consider any modifications or encroachment of our original history. We have spent the past two years plus witnessing the devastating impact of a worldwide health crisis. We've witnessed the politicization and polarization of that crisis. We have witnessed heartache, despair, and isolation. Not to mention the loss of lives and the devastating trauma experienced by those who were left behind to mourn their loss. Yes, there are a lot of reasons right now to be negative and disheartened.
Now, if that doesn't set a wonderful tone for what I am about to say... I tend to be an optimist who believes that there are no problems or challenges daunting enough that we can't work our way through them. Notwithstanding the many challenges we face in our country and notwithstanding the seemingly endless contention in which we are embroiled, I have extreme confidence that we can work our way through and come out victorious.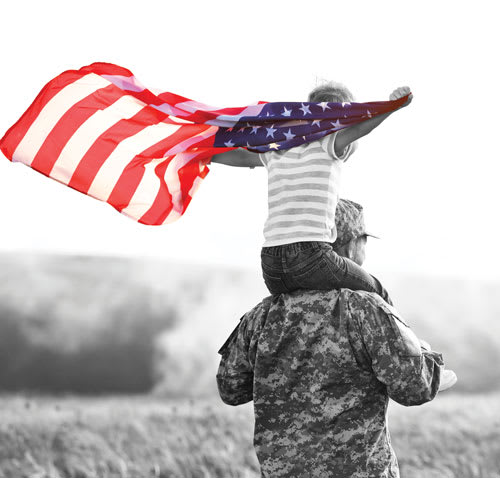 A noted religious leader made the following statement:
"It isn't as bad as you sometimes think it is. It all works out. Don't worry. I say that to myself every morning. It will all work out. If you do your best, it will all work out. Put your trust in God and move forward with faith and confidence in the future. The Lord will not forsake us. He will not forsake us. If we will put our trust in Him, if we will pray to Him, if we will live worthy of His blessings, He will hear our prayers." March 1, 1997. Gordon B. Hinkley – (President of the Church of Jesus Christ of Latter-day Saints 1995 – 2008).
Whatever challenges we may face together or individually, I still have a strong belief in the goodness of this country and the ultimate goodness of most of its citizens. I believe that the "Great God who rules the Universe and Father of us all" specifically caused America to be born as a spawning ground for the principles of freedom and liberty to spread throughout the world for the ultimate benefit of His children. I feel so very blessed and fortunate to have been born in this great land and to be privileged to enjoy those very principles from my birth. I cannot think of any place on Earth I would rather live.
Not being much of a cold-weather enthusiast, if I had my way, I'd put the brakes on summer for a while. It isn't just that I enjoy the many enjoyable activities that summer offers; it isn't just the pleasant weather and long days. I love summer because it is such a patriotic time. A time when America, together with all her great qualities, is prominently showcased. A time when my appreciation for what it means to be an American seems to swell within me. The summer season begins with our observance of Memorial Day, when we honor those who have given their lives in defense of this great nation and the precious freedoms that we enjoy. In midsummer, we celebrate the birth of our nation and the signing of the Declaration of Independence. During July in Utah (where I live), we celebrate and honor those great pioneers who withstood hardship and deprivation to settle the American West. The season draws to an unofficial close with the observance of Labor Day when we honor the men and women who make this country work the way it does today. Summertime in America is truly a great and celebratory time.
"IT ISN'T AS BAD AS YOU SOMETIMES THINK IT IS. IT ALL WORKS OUT. DON'T WORRY. I SAY THAT TO MYSELF EVERY MORNING. IT WILL ALL WORK OUT. IF YOU DO YOUR BEST, IT WILL ALL WORK OUT. PUT YOUR TRUST IN GOD AND MOVE FORWARD WITH FAITH AND CONFIDENCE IN THE FUTURE."
I glory in the joy that is mine to be a citizen of this great nation - to have the precious opportunity to be living the American dream, to be rewarded with the "fruits of my labors," and to be free to live my life the way that I choose. I cherish my citizenship in this great nation. There is no other place on earth that even compares. When I sing "The Star-Spangled Banner," I always tear up. If you combine the National Anthem with a military flyover of F-16's, I am unable to contain my emotions. When I have an opportunity to recite the Pledge of Allegiance, I consider each inspired word and inspiring phrase carefully and internalize the message of the pledge into my own consciousness.
Years ago, I was stationed at Fort Ord, California, during my military service. Each day at Fort Ord, precisely at 5:00 pm, as the colors that fly over the headquarters are retired, "The Star-Spangled Banner" is played - followed by "Taps." This is broadcast throughout the base over loudspeakers. For that brief moment, every activity on the base comes to a standstill. Every vehicle stops. Every person stands at attention, giving the proper salute. When this happens, you get a lump in your throat and tears in your eyes for the love of your country. More than once, I have observed "grizzled, old career soldiers" with tears streaming down their cheeks during this daily observance. It was not uncommon to see one of those combat-tested veterans take a new private to task for not showing the proper respect to the flag and the daily observance. That daily ritual instilled in my heart a great and profound love for the colors of our country, for the principles that they represent, and indeed for the greatness that embodies this unique nation.
We are a nation that was founded by heroes through the instrumentality of God. By any method of reckoning, the men who signed the Declaration of Independence were a remarkable group. I believe that each one of them willingly put his life on the line when he pledged his life, his fortune, and his sacred honor in support of that remarkable document. Probably each signer of this declaration would have a remarkable story to tell about the impact that his action had on the rest of his life. Each one of these men is a hero in his own right.
Consider one of the delegates from Delaware - Caesar Rodney. As a member of the Second Continental Congress, Rodney also served in the Continental Army. He was often absent from sessions of the congress due to his military duties. On June 30, 1776, when a motion for independence had been put forth on the floor, was one of the times that Rodney was absent.
One of Delaware's delegates, Thomas McKean, was prepared to vote "yes" to independence. However, George Read, the other Delaware delegate, was voting "no." The delegates of the congress who were in favor of issuing the Declaration were pushing for a unanimous vote. In order for Delaware to declare independence, the vote had to be a majority vote among the three delegates. There were enough votes for independence to pass, just not enough for unanimity among the colonies. As Benjamin Franklin declared to the body, "either we hang together, or we'll hang separately." Thomas McKean sent an urgent message to Caesar Rodney, asking him to come for the vote to push Delaware into the "yes" column.
Akin to Paul Revere's earlier midnight ride in 1775, Delaware's Caesar Rodney, receiving Thomas McKean's message, rode into the night on July 1, 1777, riding eighty miles through wind and thunderstorms to reach the Continental Congress and cast his vote for independence. Muddy and tired, he arrived in time to make the vote for independence unanimous.
Rodney put his signature on the Declaration of Independence, and as with all present in the congress, he was essentially signing his own death warrant. Possibly with Rodney, it was even more so. He had suffered for years with a cancerous growth on his face. It had been attended to by colonial physicians, but it was rumored that Rodney had planned a visit to British physicians for treatment. His signature ended that hope.
For some reason, a remarkable group of men was assembled in one place at one critical time in the world's history. These were men who placed duty and a hunger for freedom above personal interests. These were men who were blessed with vision and courage. We are direct beneficiaries of this accumulation of greatness. We are so blessed to be able to live in this great nation. We look back to a legacy of courage, honor, and patriotism. We look ahead with anticipation and hope at the opportunity to live in a land such as this. I am one who proudly believes in the greatness and goodness of America. I believe in the principles for which she stands and the principles upon which she was founded. It is my hope that as we reflect on the challenges we face, we will reflect on the great blessings that freedom brings into our lives. It is also my hope that each of us will renew a pledge to be well informed about the critical issues that face us today. As we educate ourselves about the crucial issues of the day, we will be better able to make informed decisions and support and work for those solutions that will preserve the precious freedoms that we enjoy and take for granted.
Yes, I proudly say, "Three cheers for the red, white and blue," and "God, bless America."
"IT IS MY HOPE THAT AS WE REFLECT ON THE CHALLENGES WE FACE, WE WILL REFLECT ON THE GREAT BLESSINGS THAT FREEDOM BRINGS INTO OUR LIVES. IT IS ALSO MY HOPE THAT EACH OF US WILL RENEW A PLEDGE TO BE WELL INFORMED ABOUT THE CRITICAL ISSUES THAT FACE US TODAY. AS WE EDUCATE OURSELVES ABOUT THE CRUCIAL ISSUES OF THE DAY, WE WILL BE BETTER ABLE TO MAKE INFORMED DECISIONS AND SUPPORT AND WORK FOR THOSE SOLUTIONS THAT WILL PRESERVE THE PRECIOUS FREEDOMS THAT WE ENJOY AND TAKE FOR GRANTED."