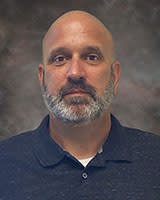 CHRIS EBERT /
DELIVERY DRIVER
My name is Christopher Ebert, and I was born and raised in Painsville, OH. I have one sister named Debbie, and my wife and I have one son, Devin who is 24 years old. My hobbies include riding motorcycles and attending various heavy metal concerts and festivals. In my spare time, my wife and I enjoy going camping with our two dogs we rescued, Jake and Dexter.
I am a driver for Med One in the Sanford, Florida office. I really enjoy traveling to the different hospitals in the area and meeting new people. I also enjoy learning about the equipment Med One provides to its customers and how it is used to assist them in their care of patients.
ALISON LINTON /
HR ASSISTANT
I was born in Spokane, Washington and lived there for the first 8 years of my life. Following that, I moved to Colorado and lived there for another 8 years. Then I moved to Utah and have lived here ever since. I am the oldest of three girls, and I love my two little sisters! I have been married to my husband Austin for soon to be 4 years. He is my better half and my best friend!
My hobbies consist of all things outdoors! Living in Utah I am very fortunate to be close to a diverse number of outdoor activities. Some of my favorite activities consist of rock climbing, backpacking/hiking, canyoneering, and mountaineering. Whether it's in the hot desert or the cold mountains, I love it either way. Due to the exposure you have while doing intense outdoor activities, it's common to have accidents. I have been a part of some scary mountaineering and climbing accidents while doing the things I love outdoors. At times it has made me hesitant to want to continue my hobbies. But I think it is important to not let fear take over and to continue to do the things you love. Throughout the week in these winter months my time outside of work has been spent at the climbing gym as well as the normal gym. I really enjoy living an active lifestyle and getting to do all this with my husband. I find it rewarding spending that time with him as we push each other to be stronger and achieve our physical goals. But my spare time has not always looked like that. Last year I graduated from college with a bachelor's degree in Human Resources Management. I am incredibly happy to have gone to school and completed a degree. I value my time working towards my education and career. But I am happy to be out of school and enjoy more free time (school is stressful!).
I have worked at Med One Group since May of 2022 as the HR Assistant. I have absolutely loved it. Even though I don't speak to everyone face to face, I love the fact that I get to talk with everyone. I have seen so much growth in just these past months and look forward to seeing the growth and development in the future. My goal is to be an advocate for the employees and to have a part in Med Ones overall success!
JON UTLEY /
DIRECTOR OF IT
I moved to the great state of Utah when I was 8 years old and was raised in Farmington, Utah. A few years later when I got married, I suddenly had the urge to see the world. I have lived in Sydney, Australia; Munich, Germany; Alameda, California; Bristol, Tennessee, and now have settled back in Utah. I have five children ranging from 5 to 28! My wife and children are my greatest joy!
On the hobby front, I have been doing flight simulation on a computer since 1986 and have quite the cockpit in the man cave at home. I fly anything from a Cessna 172 all the way to a Boeing 747 and numerous aircraft in between. My other main hobby is Ham Radio. I rather enjoy using Morse Code, and since 1988, I have contacted 327 different countries or territories. Another hobby of mine is Golf. I am not a great golfer, but I really enjoy the occasional birdie.
My favorite course that I have played is Coeur d'Alene Golf Resort in Idaho. I will soon play my dream course Pebble Beach. I also enjoy playing fantasy football and fantasy golf. If you work at Med One and are interested in joining our golf or football fantasy league, please let me know.
At Med One I am the Director of Information Technology. My team and I take great care of the technology our company uses. We take pride in being a part of the mission to provide medical equipment to those that need it. What I like most about my job are the relationships I get to develop each day at work.
SAGE PARKER /
DIGITAL MARKETING SPECIALIST
I was born in Great Falls, Montana, but was raised in West Yellowstone, Montana. I come from a family of five, and I have two younger sisters. My wife and I have been married for almost three years now.
I attended Utah State University, where I graduated with a degree in Marketing. At Med One, I am a Digital Marketing Specialist, and it is my responsibility to help promote the company via digital marketing. This means I play a part in running the company's social media channels, analyzing the company's SEO and Google Ad reports, and making suggestions to improve those, as well as making and putting into place other means to promote Med One digitally. I appreciate the creative freedom I have to develop unique ways to help promote the company. I also appreciate my coworkers and the knowledge and guidance they provide me.