Employee Spotlights
---
MARK CABRERA
biomed repair technician
I am originally from Anaheim, California, but grew up in Marietta, GA. So, I guess you can call me a southern baby, and that's just peaches. Get it? Because Georgia….peaches? I crack myself up. I love spending time with my family every chance I get. I have three siblings named Chuy, Roger, and Nadeline. They all have their own quirks which make up our goofy family, and I for one love that. I have a fiancée named Bianca, but we all call her Queen B. Man, is she beautiful. I'm glad that she's my partner, because even at my worst. She is still by my side.
We recently went to Hawaii and loved it. I can't wait to go back. The food and views were phenomenal. We love to play golf in our free time at our local country club and do multiple activities. We recently became new homeowners! It took a lot of hard work, but well worth it! We hosted Thanksgiving and Christmas at our place. I even got to chop down our Christmas tree myself this past year and can't wait to do it all again this year!
My upbringing is all thanks to my parents. They are some of the hardest working and nicest people I have ever known. My dad would give you his shirt off his back literally, and my mother would cook you up a hot meal with the last bit of her groceries. For where I am in life, and my accomplishments. I give high thanks to my parents. I love eating and trying new foods and love all types of music. From Frank Ocean to My Chemical Romance, shoot even some Ice Spice. I don't like going to concerts, but I love going to an improv show. The only hobby I have is collecting video games and toys like funko pops and action figures. Also, hanging out with my friends.
I went to Georgia Highlands for my Associate in General Studies and Kennesaw State for my Bachelors in Mechanical Engineering. At Med One I service equipment as a Biomed Repair Technician. Which is awesome, because I get to dive deep not in one or two, but several other medical equipment. Which always keeps the job fun and interesting, but there is one huge selling point for my job. Which is the culture of our team here at the Woodstock location in Med One. It's like having a second family, and I think that's awesome.
samuel kulitea
biomed repair technician
I was born in Stockton, California as number 7 of what later became 11 children. At the age of 9 my parents decided to move to Clearwater, FL where we lived with our uncle for 2 years. In 2003, we took a road trip from Florida to Arizona to visit family and loved it here so much that we decided to stay. It was here that I met my wife of 8.5 years, bought a house, started a business, and began my Biomed career.
My spare time is usually spent with my wife and family either camping, having a cookout, game nights, or just simply hanging out. Hobbies that I enjoy most are road trips with my wife and dogs, learning new sports (specifically golf), target shooting, and building things.
A talent that I have is singing and playing guitar. I come from a family of musicians, so being able to hold a note is a must! When we were younger, our family joined a church choir in every state we lived in.
I completed some college courses in Automotive Technology and Drafting and Design. Currently I'm studying for the CBET certification (Certified Biomedical Equipment Technician).
I've been in Healthcare for 5 and half years, 3 as a Surgical Equipment Technician, 2 and a half as a Biomedical technician.
I'm grateful to have been working for Med One as a Biomedical Equipment Tech for the past six months. What I like most about my job is learning how to repair, maintenance and calibrate equipment that is new to me. In order to keep up with the ever-growing technology in Healthcare, I believe continuous education and development is crucial as a Biomed Technician.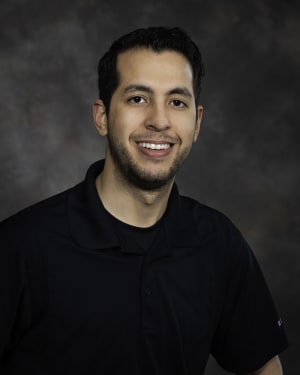 Anthony diaz
lead driver
I was born in Salt Lake City and raised in Kearns, Utah. I am half Cuban and half Puerto Rican, and I have one brother and one sister. Although my whole family is great, my favorite family member is my 2 year old nephew. He is my world, and I love to spend time with him.
I graduated from Paradigm High School which is a liberal arts school here in Utah. When in school, I loved English and writing. I even used to write screenplays and short stories because I loved movies so much.
Although I don't write a lot anymore, I still love movies and am a huge cinephile. I especially love to watch Korean films or Wes Anderson films. I also love anything from Studio Ghibli. I could watch or talk about movies all day.
Other than movies, I really enjoy sports. I like to play basketball, and I like to follow along and watch just about any other sport as well.
At Med One, I work as the Lead Medical Equipment Driver in Sandy. I have been here for a year, and I have had a lot of good times here. My favorite part about working here is the people I work with. We get a lot of work done, but I am happy to say we still laugh together and have fun while working hard.
chris call
LEAD HELP DESK TECHNICIAN
I grew up in West Jordan, Utah. I am the youngest in a family of 8 kids. I am married to a wonderful woman named Char (pronounced SHAR) who stays at home with my two wonderful boys Ethan (5) and Andy (2).
My wife and I are both into classical music and always enjoy going to symphonies and the Utah Opera. My wife was a Middle School Choir Teacher, and I grew up being in all the top choirs throughout my high school years. My wife and I have joined multiple singing groups throughout the years as well, one of which was This is the Place Park in Salt Lake City caroling for guests that come to the park. I also am fluent in American Sign Language and have been involved in the deaf community here in Utah and Arizona.
I love playing volleyball and video games. I host video game LAN Parties with friends often and have ever since I was a kid. If you have a video game question, I'm the one to ask!
I went to school at Utah Valley University and received my associate degree in information technology. I work here in the IT Help Desk as the Lead Help Desk position, making sure the help desk is running smoothly under my boss Jon Utley. I love working at Med One and with this specific team because we all feel like we can be ourselves with each other and we enjoy each other's company which always makes it easy to come into work.